License & trialversion
Jump to navigation
Jump to search
Preface
The principle of paying for Struct4U is Pay Per Use.
You pay € 3.65 per hour.(VAT excluded)
Never more than € 1600 per year (in case of year-license € 1155)
No fixed costs
No investment in software licenses
Check for more information our website: Prices
Trailversion & Registration
The trial principle works following these steps:
Download the software
You can use the software for 2 hours without registration
When you register you receive 25 euro's of free analysis credits. That is ca 6.5 hours of using the software. This is for all the Struct4U Engineering Tools
After that you have to purchase analysis credits. At least € 250.
Registration Process
1 Enter your details
Download and install the programs you need.
Start the program
Choose for "New account".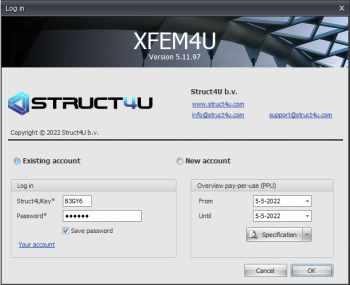 The first time only you enter your data.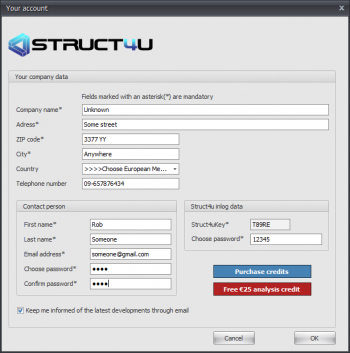 Choose for "Free €25 analysis credit"
You will receive an e-mail with your promo code.
2 Enter your promo code
Enter your promo code here that you have received from us by e-mail.
Your free credit of € 25 is immediately topped up and you can make your calculations.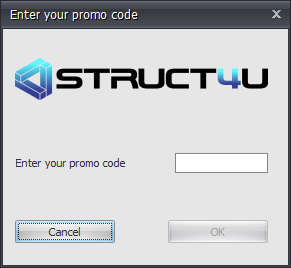 3 Enter your promo code
Your unique Struct4uKey is automatically generated and entered here. (In this case "T89RE") Enter your password here. By default, that is "12345".
You can of course change your password in your data. (Step 1)
Please see also Upgrading Credit